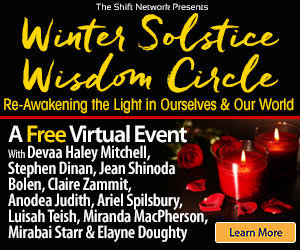 The Winter Solstice marks the returning of the light and provides us with a powerful opportunity to pause, reflect, bless, and integrate all that has transpired in the departing cycle.  This sacred time creates a short portal for us to carry the gifts and wisdom of the completion forward as we set intentions for the coming year.
It is one of my most cherished days of the year!

To celebrate, Devaa Haley Mitchell has convened a circle of wisdom keepers to share their wisdom and offer us practices for the Solstice!  We'll also be offering a Solstice ritual where you can connect and align with a global community for shared prayers and blessings. Given the violence and polarization that has been ravaging our planet at this tender moment, it is especially important to gather in conscious community to share wisdom and support each other through this time. Together, a new future IS possible, but we must continue standing together – especially in the face of such significant challenges.  

So now is the time. And we are here, shining our lights into the darkness of the night. Please add your own light to ours beginning, December 20th, at 12pm Pacific. Our Winter Solstice Wisdom Circle will feature:
Devaa Haley Mitchell – Turning Your Year's Experience To Precious Wisdom
Stephen Dinan – A Global Perspective on Peacebuilding at Solstice
Jean Shinoda Bolen – The Return of the Light – Even When It Cannot Yet Be Seen
Claire Zammit – Staying Connected to Your Power Through the Holidays
Anodea Judith – Nourished by the Darkness, Embraced by the Light
Ariel Spilsbury – A Solstice Transmission from the Sacred Feminine
Luisah Teish – Honoring the Mother of the Deep… Sleeping, Dreaming, and Regenerating for the New Year
Miranda MacPherson – Celebrating the Solstice with Boundless Grace
Mirabai Starr – Harvesting the Gems From Our Despair
Elayne Doughty – Trust the Silence
Elizabeth Purvis – Releasing the Past, Clearing Space for the New
We hope you'll convene with us starting on Sunday, December 20th at 12pm Pacific! This event is free but you do need to register to receive access information.