Every age has its teachers, who keep the eternal truths alive for all of us. And when a generation is very, very lucky, it encounters a teacher so illumined that the words he delivers must be illumined as well. In the case of Andrew Harvey, the light he sheds is like a meteor burst across the inner sky.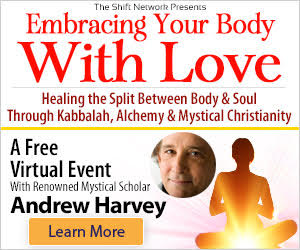 This is what Marianne Williamson says about Andrew Harvey, the presenter of the FREE virtual event, Embracing Your Body With Love: Healing the Split Between Body and Soul Through Kabbalah, Alchemy & Mystical Christianity. If you are committed to your spiritual growth but sometimes struggle with feeling fully at home in and present with your body, then I have an extraordinary invitation for you. Andrew Harvey — one of my favorite teachers — will be speaking about a union often considered "taboo": sexuality and spirituality. It's happening on Wednesday, December 2, 2015.
If you were born into Western culture, you've most likely inherited a split that sees sacredness as happening in a "higher" realm, with your body relegated to the status of "lower", and maybe even considered a "vehicle of sin". No wonder connecting with the sacredness of our sexuality can be such a struggle! But you can break free, during this complimentary session, when Andrew will guide you to:
Bridge the divide of spirit and body.
Deeply heal and nurture mind, heart and body.
Create the foundation for maximum physical health.
Infuse your entire being with spiritual power.
Become a gateway into divine embodiment and the birth of the new human.
If you're a seeker who craves a more intimate union in your personal relationship or with life itself, this discussion will surely be eye and mind-opening, as well as deeply healing for your body and sexuality. Learn more and save your space here for this exciting event. A recording will be provided after the event, so don't fret if you cannot attend live.