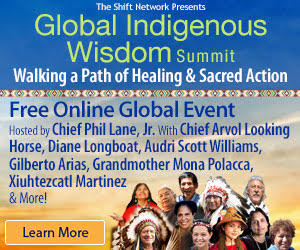 In these times, it's easy to feel dispirited and hopeless when listening to the talk about the crises facing our Beloved Mother Earth and all of us who may struggle to thrive here. Everywhere you turn, you hear about environmental destruction, economic and political corruption, social and cultural disintegration, violence, human rights abuses and more.

It can be so difficult to know where to turn to find the deep wisdom, inspiration and guidance we need to overcome these many challenges and end the suffering from this long "spiritual wintertime" that we all have endured. That's why I want to invite you to the free online Global Indigenous Wisdom Summit.

This world-changing summit features 20+ Indigenous leaders from around Mother Earth — including Hereditary Chief Phil Lane, Jr., Chief Arvol Looking Horse, Diane Longboat, Audri Scott Williams, Gilberto Arias, Grandmother Mona Polacca and so many others. They're coming together for this amazing virtual council gathering to share how we can nurture a budding "spiritual springtime", in which we walk a new unified path of healing and sacred action. I hope you'll participate in this extraordinary online event presented by The Shift Network, November 17-19.

RSVP here for The Global Indigenous Summit — at no charge! During this beautiful 3-day event, you will hear wisdom from Indigenous voices representing the four directions. They will share prayers, sacred songs, prophecies, spiritual teachings and pathways to healing, as well as inspiring examples for birthing a new era — one in which all members of the human family are treated with respect, understanding, compassion and justice.

And this year, Day 3 will include the "Festival of the Americas" Video Day, featuring video interviews with attendees at The Indigenous Summit of the Americas. During The Global Indigenous Wisdom Summit, you'll discover:
The profound importance of the emergence of the Seventh Generation, as prophesied16 Indigenous Principles for Building a Sustainable and Harmonious World
A greater understanding of Indigenous prophecies and how they are being fulfilled around Mother Earth
Insightful approaches to rebuilding broken trusts, healing deep wounds and promoting a global culture of peace
Practical tools for developing non-political governance and self-determined communities
Sacred pathways to connect with the unity and oneness of our human family and to experience a deep sense of belonging
Profound and practical wisdom that will empower us all to take unprecedented, unified action in manifesting our rapidly emerging spiritual springtime
We are all Indigenous to Mother Earth. And the participation of ALL the relatives — including YOU — is key to overcoming our challenges and actualizing the vision for our forward progress and positive future. Register for this illuminating event if you are ready to bloom into the spiritual springtime foretold of by ancient Indigenous prophecies by learning to build a thriving, sustainable and harmonious world that can fully realize the unlimited potential of the human family, both individually and collectively.

RSVP here for The Global Indigenous Wisdom Summit — at no charge!