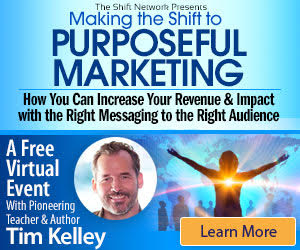 Have you found traditional marketing so distasteful that you often avoid it altogether? If so, you are not alone.  The old paradigm of traditional marketing can feel awful to people like you and me who are committed to living consciously and doing business in an authentic, new way. Globally-respected change agent Tim Kelley calls this new paradigm of marketing "purposeful marketing" because it is sourced from the highest purpose for your life (or business).
 
On Wednesday, October 21, Tim will share key insights from his Purposeful Marketing system, during Making the Shift to Purposeful Marketing: How You Can Increase Your Revenue & Impact with the Right Messaging to the Right Audience. Tim has taught these techniques to thousands of people — from CEOs to coaches. His education in mathematics at MIT, distinguished career in Silicon Valley hi-tech and service as a Commanding Officer in the U.S. Navy, has led to insights that are practical, replicable and reliable, and yet appealing to the heart and soul.
 
During this exciting free presentation he will open a doorway to a new way of marketing that is more fulfilling, meaningful and inspiring.  He'll share  specific practices for doing it well, as well as how NOT to do it. If you participate, you'll:
Discover which aspect of your purpose carries the most impact in so that you can clarify your offer in the right language to attract your ideal clients
Understand why traditional "niching" won't necessarily help you find the precise divine audience who is meant to receive your services
Know how you can position yourself in such a specific way that you have no competition at all
Gain greater confidence in sales, marketing and pricing conversations, because you know you can deliver results
Increase your skill in generating marketing copy that speaks directly to the right audience
Align your business persona and marketing with your purpose and true essence
Save money on copywriters and outsourcing
As you apply this knowledge, you'll stand powerfully in your marketing because you know that you've sourced your message and materials from your purpose and higher guidance.  Register now and receive a downloadable replay. I invite you to join me in learning Tim's precise and proven methods for evolving old-school marketing to Purposeful Marketing.