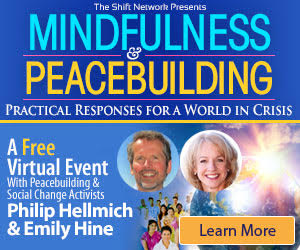 Does your heart yearn for an end to the violence, war and increasing polarization of humanity? Would you like to bring more peace and harmony to your heart and those around you? If you long to make a personal contribution to create peace from personal to planetary, I invite you to join me on Wednesday, December 9, at 5:30pm Pacific, when peace-building and social change activists, Philip Hellmich and Emily Hine present Mindfulness & Peace-building: Practical Responses for a World in Crisis.

During this special free teleseminar, you'll learn:
Why creating inner peace within is a global responsibility and how it is essential for any meaningful outward action
How mindfulness can help you heal personal wounds and resolve interpersonal conflicts
How to leverage the intelligence of the heart and nonviolent communication to communicate more compassionately even and especially when triggered
If you recognize that now is the time to take your peace practice from "the cushion" and into the world, which is clearly on fire with conflicted relationships, then please do not miss this empowering virtual training. It's FREE to attend and you will receive a recording if you can't listen live.
During Mindfulness & Peace-building Philip Hellmich and Emily Hine will offer you an integrated approach to mindfulness, spirituality, and peace-building that can give you hope for our future and practical skills to make a difference in a world in crisis. All you need to do is register here.